About Us
Knitting perfection in the form of blankets for people to make memories and create stories is Vardhman Texo Fab. Came into existence in 2016, we have made our strong presence by keeping in focus quality blankets production. In over 10 countries, we have become the No. 1 choice because of our finest collection of Mink Blankets. In the global hospitality sector, our name is second to none for sourcing luxury blankets collection, made in fine textures and unique designs.
We are expanding globally as a modern and productive manufacturer and exporter by introducing a soft, comfortable and cost-effective collection of blankets containing Fancy Printed Mink Blanket, Fleece Polar Blanket, Printed Mink Blanket, Printed Polar Blanket, Floral Print Acrylic Blanket, Airline Mink Blanket, Plain Shoddy Blanket, to cite a few. Ultra cozy, aromatic finish, unique print and elegant style are some special characteristics of our line. We believe, we hold the power of creating a better tomorrow by knitting fabulous line of blankets that provides satisfaction to users and meet their needs.
Our Vision
To serve exclusive collection of blankets that meets modern buying needs and satisfy demands of quality appreciators across the world.
Our Mission
To create our brand value by adding more and more new styles and fabulous designs in our blankets collection.
Our Certification
Considering quality the biggest factor that we, as a producer, can bring forth in blankets, have gained ISO 9001:2015 certificate. This certificate shows our devotion to produce blankets in compliance with the best quality standards.
Infrastructure & Manufacturing Facilities
The quality in each piece of the large blankets collection we serve, is the result of advanced technology in which we have largely invested. We proudly boast of our advanced machinery line, using which we indulge in quality production. Along with advanced production facilities, we have modern quality assessing and storage facilities. These are handled in a sincere and excellent manner by our experts team. Having the best of facilities, we, by the year 2025, aim at becoming the most powerful name in blankets industry.
Why You Should Choose Us?
Beautiful Design: Our Fancy Printed Mink Blanket, Floral Print Acrylic Blanket, and other blankets are beautifully designed to create a relaxing atmosphere.
Best Quality: We use premium yarns for producing the best quality of blankets in superb colors, prints and styles.
Competitive Pricing: We charge reasonable rates for our attractive blankets collection and meet buyers desire for low priced range.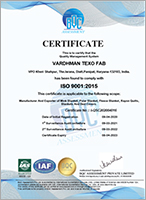 Read More